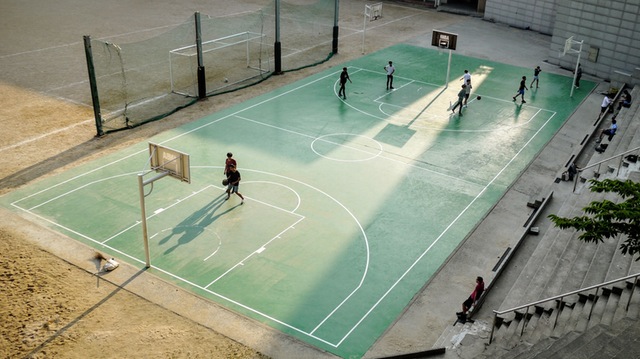 Rugby is a type of football developed at Rugby School in Rugby, Warwickshire, one of many versions of football played at English public schools in the 19th century. The two main types of rugby are rugby league and rugby union. Although rugby league initially used rugby union rules, they are now wholly separate sports.
The Greeks and Romans are known to have played many ball games, some of which involved the use of the feet. The Roman game harpastum is believed to have been adapted from a Greek team game known as which is mentioned by a Greek playwright, Antiphanes  and later referred to by the Christian theologian Clement of Alexandria. These games appear to have resembled rugby football. The Roman politician Cicero describes the case of a man who was killed whilst having a shave when a ball was kicked into a barber's shop. Roman ball games already knew the air-filled ball, the follis. Episkyros is recognised as an early form of football by FIFA.
In 1871, English clubs met to form the Rugby Football Union . In 1892, after charges of professionalism  were made against some clubs for paying players for missing work, the Northern Rugby Football Union, usually called the Northern Union , was formed. The existing rugby union authorities responded by issuing sanctions against the clubs, players, and officials involved in the new organization. After the schism, the separate clubs were named «rugby league» and «rugby union».
Distinctive features common to both rugby codes include the oval ball and the throwing the ball forward is not allowed, so that players can gain ground only by running with the ball or by kicking it. As the sport of rugby league moved further away from its union counterpart, rule changes were implemented with the aim of making a faster-paced and more try-orientated game.
In England, rugby union is widely regarded as an «establishment» sport, played mostly by members of the upper and middle classes. For example, many pupils at public schools and grammar schools play rugby union, although the game  is becoming increasingly popular in comprehensive schools.
Despite this stereotype, the game, particularly in the West Country is popular amongst all classes. In contrast, rugby league has traditionally been seen as a working class pursuit. Another exception to rugby union's upper class stereotype is in Wales, where it has been traditionally associated with small village teams made up of coal miners and other industrial workers who played on their days off. In Ireland, rugby union is a unifying force across the national and sectarian divide, with the Ireland international team representing both political entities.